Born into an Army family, Peter Cosgrove attended Waverley College in Sydney before graduating from the Royal Military College Duntroon in 1968. His first deployment was in Malaysia with the 1st Battalion RAR and later in Vietnam he commanded an infantry platoon. He served as Commander of INTERFET in East Timor in 1999 overseeing that country's transition to independence. Then promoted to Chief of Army and later Chief of the Australian Defence Force.  He retired from the ADF in 2005 serving on several boards before becoming a Knight in the Order of Australia when sworn in as Governor-General in 2014 and serving until June 2019.   Sir Peter was appointed a Commander of the Royal Victorian Order by Her Majesty the Queen in August 2019.  
In retirement, he remains involved with defence, health and other charitable organisations.  In January 2020 Sir Peter accepted the voluntary role as chairman of the Business Council of Australia's Community Rebuilding Initiative in response to the 2019/20 bushfires, leading a group of eminent business and community leaders to work with government and the community in the rebuilding process.
Sir Peter is also an avid sports fan with a particular interest in Rugby and Cricket.  Married to Lynne since 1976, they have three sons and delight in their three young grandchildren!
Additional information about some of Sir Peter's awards and honours:-                        
The Military Cross (MC) for his performance and leadership in Vietnam during an assault on enemy positions (1971)
Member in the Military Division of the Order of Australia (AM) for service in command 1983-84.
Promoted to Companion of Order of Australia (AC) for leadership of INTERFET
Australian of the Year in 2001
Knight in the Order of Australia in 2014
Commander of the Royal Victorian Order, appointed by Her Majesty the Queen in August 2019.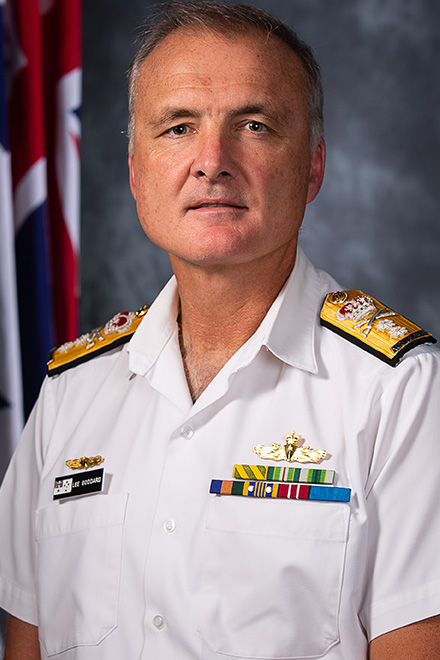 Rear Admiral Lee Goddard was promoted to his current rank and became the Commander Maritime Border Command in February 2019. Prior to this he was seconded as a Branch Head to the Department of Prime Minister and Cabinet.
Lee Goddard joined the Royal Australian Navy (RAN) in 1987 from Melbourne through the Australian Defence Force Academy where he completed his degree studies graduating with a Bachelor of Science in 1989. In his final year he was appointed as the first Naval Academy Cadet Captain and was awarded the RSL Sword of Leadership on graduation. In the following year while completing Seaman Officer training at the RAN College (Jervis Bay) in 1990 he was appointed College Captain and awarded the Queen's Medal.
Throughout his career he has served at sea in Australian, Canadian, Malaysian and US Navy warships, and on operations in the Middle East. He gained his Bridge Watch-keeping Certificate in early 1992 while serving on exchange with the Canadian Navy, in HMCS Yukon based in Victoria, British Colombia. Later in 1993-1995 he served as a Watch/Executive Officer onboard Australia's national tall ship STS Young Endeavour and he has been posted overseas to Malaysia and Bahrain.
In 1996 he completed the RAN Principal Warfare Officer's course where as dux he was awarded both the Sydney-Emden prize and the RAN Sword of Excellence. He was a member of the commissioning crews of the Anzac Class frigates HMAS Arunta (Warfare Officer) during 1997-1999 and HMAS Stuart (Executive Officer) during 2001-2003. During 2006-2008 he commanded the Anzac Class frigate, HMAS Parramatta, and the ship was awarded the Duke of Gloucester's Cup in late 2008. Lee Goodard was awarded the Conspicuous Service Cross (CSC), on Australia Day 2007, for service as the commander operations in the maritime component of Joint Operations Command. Following on from his first sea command in 2008 he was appointed Commander Sea Training.
In 2009 he was posted as an inaugural member of the 'New Generation Navy' Team, as the Deputy Director Transformation & Innovation working closely with the Nous Group that reported directly to the Chief of Navy. He was then selected to attend the US Naval War College in Newport Rhode Island, where he joined the Naval Command College, graduating in June 2010 and was awarded the War College's International Leadership Prize. He was subsequently asked to remain at the War College as an International Fellow, teaching within the Department of Strategy and Policy at the Masters level.
On his return to Australia in early 2011 he was appointed as the Director Military Strategic Commitments at the Australian Defence Headquarters, working within the strategic level of Defence and across Government. He returned to sea in late 2012 to assume command of the upgraded Anzac Class warship HMAS Perth. On promotion to commodore in late 2014 he assumed the role of Commander Surface Forces.
Rear Admiral Goddard was awarded a Master of Arts (International Relations) in 1996, is member of the Australian Naval Institute council and has previously served as councilor with the Australian Institute of International Affairs. He has contributed to a range of professional and academic journals focused on international affairs and security issues. His personal interests evolve around family, sport and sailing.
If you would like more information about our Ambassadors or would like to become involved, please contact us.